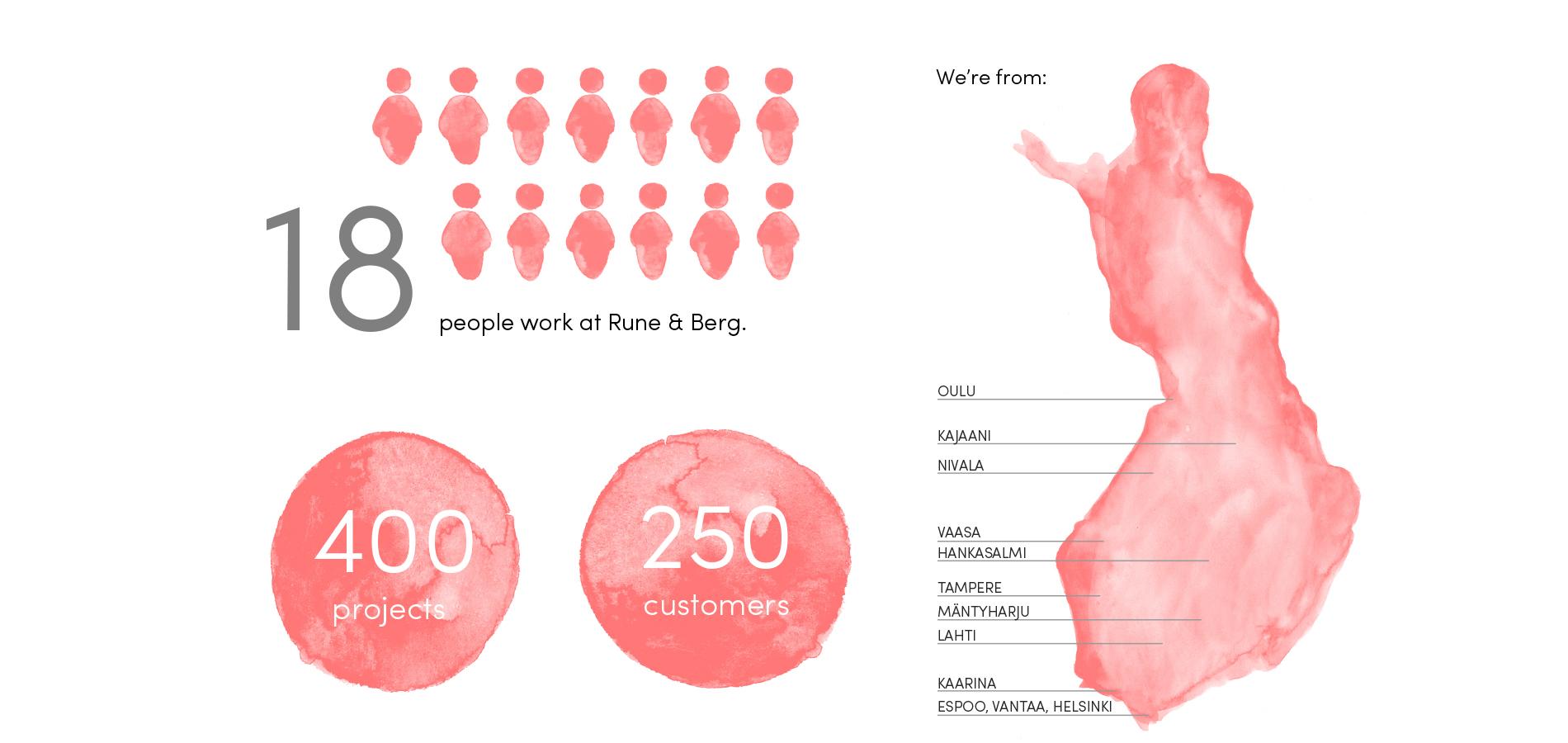 RUNE & BERG DESIGN
Rune & Berg Design Oy is an expert in business culture and customer experience.
Strong strategies, analytical touch and understanding of the customer's needs are crystallized in our work. These elements are present at all stages of a project, from creating the brand strategy for a client to the visualization of an identity and project management. We put our minds into the content of your assignment; it guarantees quality solutions that are insightful and innovative.
As cooperation partners, we're a flexible and communicative expert community that supports our client's goals. According to client feedback, we're an inspiring, professional and trustworthy partner.
"Rune & Berg always punctually delivered what we had agreed on. The quality was first-class, and they worked hard on the project. As a client I didn't have to worry about the things we agreed on. Developing and building the concept for my company was a complex process and required both strong project management and teamwork skills, as my collaborators were involved as well. Rune & Berg had both the know-how and resources that were essential in the project. Working with the people at Rune & Berg was both easy and nice."
Johanna Keltto, entrepreneur
MI.NO
DETERMINED AND FLEXIBLE
Based in Töölö, Rune & Berg Design was founded 2011. There are thirteen of us, and we have backgrounds in a number of fields. We're inspiring and enthusiastic professionals with strong visions and an easygoing attitude. We're both determined and flexible—working with us is fun, and the end result is first-class.
We at Rune & Berg are ambitious and creative professionals to whom the world is an endless source of inspiration. We've done hundreds of projects: hours of interviews, kilometers of illustrations and hectares of spatial designs.
Rune & Berg Design is a link between different operators—as well as inside the client company, if necessary. We succeed only when our clients succeed.
"Amazing work! Rune & Berg was a pleasure to work with, they knew the exact what we were looking for, coming up with their own ideas that fit our target audience, they helped us a lot to develope the core of the brand concept. Will definitely be bringing Rune & Berg on board to future projects! Thank you Rune & Berg."
Katja Schütt, Industrial Designer
Five Watts Oy